What's On at Bridge
Welcome to the What's On page!
Tenants have told us they want more fun, social activities to support them to make connections. Check out what's on below.
If you have any questions about the events below, are using Zoom for the first time or would like to host an online event yourself, contact the Community Team by calling 8324 0836 or by emailing This email address is being protected from spambots. You need JavaScript enabled to view it..
pdf Guide - how to access a Zoom meeting (92 KB)
pdf Guide - how to access a Zoom webinar (88 KB)
Upcoming Events
NSW Seniors Festival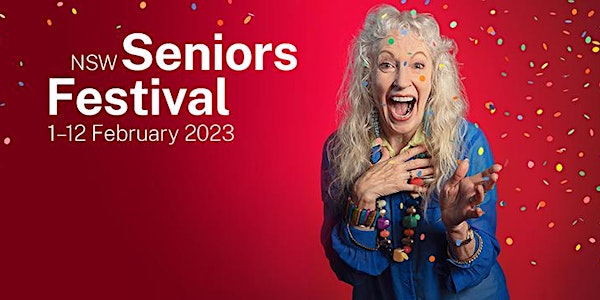 LIVE STREAM 2023 Premier's Gala Concert
When and where
Location
Waverley Library 32-48 Denison St Sydney, NSW 2022
Seniors let's Celebrate Together! If you are unable to attend the Premier's Gala Concert in person, come join us at the library to watch the Live Stream. The concert will showcase some of Australia's greatest entertainers and recording artists. You will be treated to wonderful performances from Rodger Corser, Kate Ceberano, Ross Wilson, Harrison Craig and Prinnie Stevens.
Refreshments will be served.
Ten Things To Know Before You Go

Take control of your own story. Gain essential tools and knowledge to plan well for your, or a loved one's, end of life.
There's a lot of information out there about planning well and getting our affairs in order. It can be hard to know where to begin!
This 2 hour workshop will help you pull it all together and explore end-of-life planning in an engaging, accessible way. It will leave you feeling confident in knowing what options are right for you and your family, whilst recognising the strength of your existing skills and experience.
Qigong
Martial arts
Qigong is a meditative practice incorporating breathing techniques, movement, sound, and self-massage. Its origins lie in traditional Chinese medicine and philosophy.
There are many different styles of qigong, with some focusing on health, while others revolve around martial arts training or spirituality.
Qigong has four components:
breathing techniques
body postures
guided imagery
meditation
Where: Community Room 3 Elger Street, Glebe
When: Every Monday
Time: 11am - 12pm
Call 8324 0836 or email This email address is being protected from spambots. You need JavaScript enabled to view it.

Golden Oldies
Are you over 55 years old and wanting to get active and social in 2022?
Enquire about the Golden Oldies Program in Glebe.
Bus Trips leaving from Glebe to exciting locations
Chair Yoga and Gentle Exercise weekly
Fortnightly social games afternoons with prizes from local businesses
Stay Safe Workshops
Qi Gong
Call 8324 0836 or email This email address is being protected from spambots. You need JavaScript enabled to view it.

Register at: https://bridgehousing.snapforms.com.au/form/golden-oldies-program
Community Greening Workshops
Community gardens are a great way for people who live in the same block to get together and share the experience of growing food and other plants. The benefits of community gardening are well documented, and include:
For more information or to start your own community garden contact the Community team on 8324 0836 or This email address is being protected from spambots. You need JavaScript enabled to view it.
Next Community Greening Workshops 2023
TAG 2023
Bridge Housing Residents are invited to join our TAG Tenant Representatives and Bridge Housing Staff to discuss service updates, tenancy issues and hear from guest speakers.
Most venues will have a capacity limit. Be sure to RSVP and let us know your dietary requirements.
NORTH TAG
When: Tuesday 14th February
Time: 11.30am - 1pm
Location: Warringah Mall Library
ATTAG
When: Tuesday 9th February
Time: 10.30am - 1pm
Location: 3 Elger Street, Glebe
VNTAG
When: Wednesday 8th February
Time: 10.30am - 12pm
9/59 Goulburn Street, Haymarket 2000
ESC
When: Monday 31st January
Time:- 11am - 1pm
Location: 3 Elger Street
WEST/BANKSTOWN TAG
When: Thursday 2nd February
Time: 11am - 1pm
Location: Granville Centre - 2a Memorial Drive, Granville.
TRG
When: TBC
Time:
EAST/CENTRAL TAG
When: Thursday 23rd February
Time: 10.30am - 12.30pm
Location: Redfern Town Hall
* Dates and venues subject to change
RSVP: This email address is being protected from spambots. You need JavaScript enabled to view it. or call 8324 0836